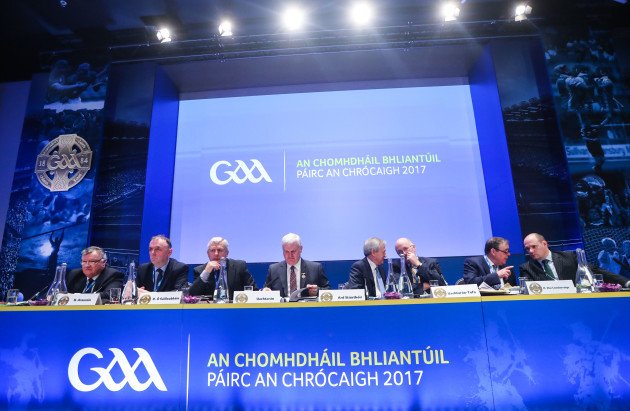 This weekend saw a special congress take place in Croke Park, over the day some big decisions took place with major changes to the Senior Inter-County Hurling Championships. More on this can be seen on www.gaacork.ie .
The changes that will see impact on underage is the change in the Inter-County Minor Hurling Championship, motion 12.
ALL IRELAND MINOR HURLING CHAMPIONSHIP
Motion 12 CCCC/Ard Chomhairle (Passed with 90 per cent of delegates in favour of it)
Deals with the All-Ireland Minor Hurling Championship. It proposes that any suitable Ulster teams participate in Leinster. The winners of Leinster and Munster qualify for the All-Ireland semi-finals, while the runners-up in both provinces and Galway compete in a round-robin All-Ireland series. The top two teams advance to the All-Ireland semi-finals.
CENTRAL COUNCIL MOTIONS TO FACILITATE THE PLAYING OF CLUB GAMES
Motion 13 CCCC/Ard Chomhairle (Passed after receiving the backing of 64% of delegates)
Proposes that Rule 6.40 (a) Tournament Games be amended to permit inter-county tournament games to be organised up to the U-16 grade only.
Motion 13A Cork – amendment to Central Council motion (Passed with the support of 77 per cent of delegates)
To allow counties to facilitate tournaments games at U-19 hurling level.
AGE GRADES
Motion 20 Minor Review Workgroup/Ard Chomhairle (Deferred until next year's Congress)
It proposes that underage Age Grades at Club Level be altered from Under 12, 14, 16 and 18 to Under 11, 13, 15 and 17.It further proposes that the lower age level eligibility at different levels not be altered.Example: In the case of Under 18 – a player shall have celebrated his 14th birthday prior to January 1st of the Championship year. Effectively the eligibility age span in each case is reduced by one year.
PLAYING RULES
Motion 21 Standing Committee on Playing Rules/Ard Chomhairle.
(Passed with support from 82 per cent of the delegates)
This relates to the kick-out in Football.The proposal is that the ball must travel "at least 13m" and additionally travel "outside the 20 metre line" before being played by another player of the defending team.An amendment of Technical Foul/Penalty in Rule 4.29 is consequently proposed.
https://rebelog.ie/wp-content/uploads/2020/06/downloadfile-1808906796.jpg
411
630
alex_andrews
https://shared3.sportsmanager.ie/~rebelognew/wp-content/uploads/2020/06/logo.png
alex_andrews
2017-10-01 07:49:37
2020-07-07 07:01:55
Update on Special Congress to areas that effect underage activities