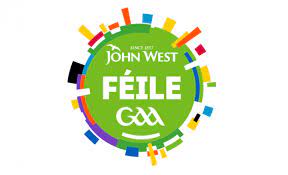 Cork Féile
Due to the continuance of Covid-19, it has been decided by the National Committee that no National Féile would be held in 2021, but that within each County a one-day competition will take place on Saturday, August 21 for hurling and Saturday, August 28 for football.
Winners from the Division one competition, hurling are invited to Thurles on the October Bank Holiday Monday for a one-day event to commemorate the 50th anniversary of the first Féile played in Semple Stadium in July 1971.
Cork competition
Féile Age: Under 15, DOB on or after 01/01/2006
Féile 1. Teams from Premier 1 and 2, currently 16 teams, are to be divided into 4 groups of 4. To be played off on that Saturday Morning with games commencing at 10.30 am. Each team to play 3 games with each group winner qualifying for the group semi-final, time to be confirmed, depending on any Cork involvement at Inter-County level that evening.
Féile Phase Two – Games in Semple Stadium / Thurles – The National Committee in conjunction with Tipperary GAA to host an event in Thurles on Bank Holiday Monday, October 25.
The following counties are being invited to send a representative to coincide with the eight teams that competed in Division 1 in the original Féile in 1971 – Dublin, Wexford, Kilkenny, Waterford, Limerick, Clare, Cork, and Galway – plus four teams from Tipperary, again to mark the fact Tipperary hosted the first event 50 years ago (12 teams in total with no other event being planned centrally).   
Féile 2. Teams from Division 1 Hurling, grouping on a similar arrangement to Féile 1, depending on entries.
Féile 3. Teams from Division 2 Hurling, grouping on a similar arrangement to Féile 1, depending on entries
Féile 4. Teams from Division 3 Hurling (13 a side), grouping on a similar arrangement to Féile 1.
Féile Phase Two – Games in Croke Park – Games to take place in the stadium over three days during the Halloween School Break. Teams drawn on the basis of having participated in their local county competition. All 32 counties to be involved over the three days (some in hurling, some in camogie, some in football, and some LGFA). Féile Participation Draw to be made early September.  
All group games will commence at 10.30 am, with games consisting of 15 minutes a side, with a five-minute halftime interval. Round 2 game to commence at 11.15 am and round 3 games commence at 12.00 Noon.
An entry fee will apply accompanied by a non-refundable fee payable with the entry in the event of such withdrawal occurring. (Details to Follow)
Páirc an Cróchaigh have commissioned a 50th Anniversary Medal which will be presented to each group winner.
NOTE
In recent years clubs having entered, paid their Feile Fee, and then in the days leading up to Feile withdrawing, or even sending notification on the morning of the competition that they were unable to compete. This caused major difficulties for Coiste na nÓg as it meant that Groups had in some cases to be redrawn while in others with last-minute withdrawals it meant that some groups were left rather lopsided.
ENTRIES
Latest date for entries in both codes is 5pm on this Friday, July 23.
Online Entry Form for Feile 2021
https://rebelog.ie/wp-content/uploads/2021/07/Feilelogo.jpg
175
288
Rory Noonan
https://shared3.sportsmanager.ie/~rebelognew/wp-content/uploads/2020/06/logo.png
Rory Noonan
2021-07-20 08:44:44
2021-07-20 08:44:44
Féile entries open until Friday