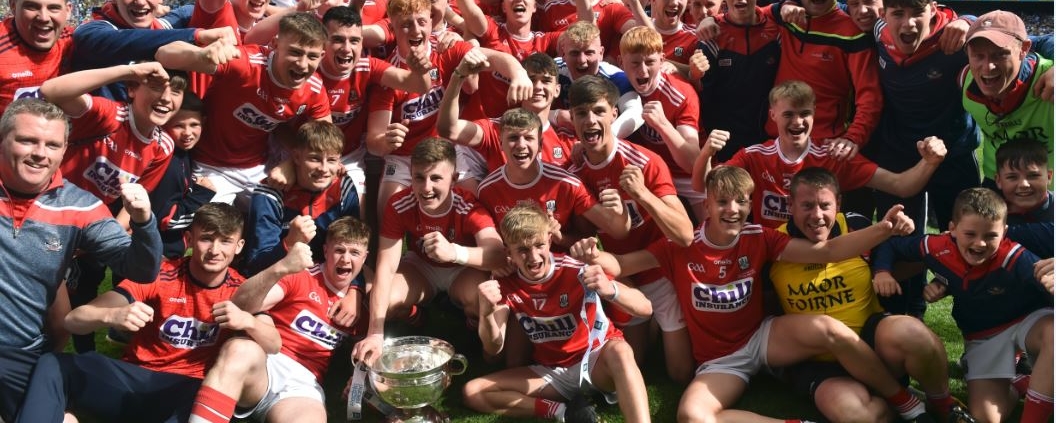 Cork 3-20
Galway 3-14
(after extra-time)
A SEASON which started with a keen sense of foreboding ended on an exhilarating high with the completion of a remarkable All-Ireland under-age football double following a gutsy minor success at Croke Park yesterday.
A minute from the end of four minutes' injury-time at the end of regulation time, Galway substitute Niall Cunningham belted in a rocket to shove his side 2-13 to 1-13 in front.
It seemed the end of the road for a brave Cork side, but they rebounded in the most dynamic fashion as straight from Cian O'Leary's long re-start the ball was fired in the direction of captain and inspirational scorer, Conor Corbett.
He shrugged off the attentions of his marker to slam in a sensational equalising goal to tie matters up for the sixth time. It only took 20 seconds to transfix gloom to elation.
And yet, there was another twist because Galway's main scoring threat, Tomo Culhane, had a free from an acute angle on the left to snatch victory, but his effort veered wide. Extra-time.
Cork were a transformed team in the additional 20 minutes as Galway tired visibly and what a start they got, Michael O'Neill setting up substitute Ryan O'Donovan for a cracking goal after only 30 seconds.
Critically, Cork didn't rest on their laurels and drove on by adding three points without response as Corbett and O'Neill, with two, helped them surge 3-16 to 2-13 ahead before Culhane eventually kicked Galway's opening score in extra-time.
And still Cork came again with O'Donovan once more showing the benefit of a strong bench to help his side move two goals clear again, 3-17 to 2-14 at the break.
Fittingly, it was that player again who opened the scoring on the resumption as Cork established a winning position, particularly when O'Neill stretched the advantage to eight points in the 75th minute.
However, Galway weren't going anywhere. It took a brave, diving block by Daniel Linehan to deny Warren Seoige and, three minutes from the finish, Cunningham barged through for his second goal, 3-19 to 3-14.
Cork cleared a late Galway free and how appropriate that it should be the captain, Corbett, to seal victory with the closing point in injury-time to bring the curtain down on an astonishing final.
In the first-half of normal time, both sides were slow to settle with Culhane opening the scoring after seven minutes before Corbett showed how for Cork with a couple of quick-fire points moments later.
Sadly, that was the only time in the period that they enjoyed having the lead as Galway levelled through Culhane, who kicked three points in-a-row to leave Cork trailing by 0-4 to 0-2 at the end of the opening quarter.
The dangerous Culhane wasn't the only threat to Cork's prospects because Daniel Cox and Nathan Grainger, either side, were also starting to have an impact.
O'Neill reduced the deficit to the minimum with a score after 17 minutes only for Cox to contribute twice, 0-6 to 0-3, five minutes before the break.
And while Corbett bagged his third point after Jack Cahalane showed well for the ball, Galway again replied with a brace of points from Grainger and a Culhane free to make it double-scores again, 0-8 to 0-4.
Cork completed the scoring with a fine point from Darragh Cashman to reduce the margin to 0-8 to 0-5 at half-time, but with a major improvement needed on the resumption.
That began with a much-needed Cahalane goal after 36 minutes, when Keelan Scannell found O'Neill, who sent in the crucial pass for the Castlehaven player to dispatch to the net.
It cut Galway's lead to the minimum, which was amazing considering Cork, twice, needed keeper O'Leary to perform heroics in stopping Culhane and Grainger.
The sides were level four more times in the hour before Cork pulled away in extra-time.
Scorers for Cork: C Corbett 1-8 (0-1 f), R O'Donovan 1-2, M O'Neill 0-5 (0-2 f), J Cahalane 1-1, D Cashman 0-2, P Campbell, L Murphy 0-1 each
Galway: T Culhane 0-10 (0-7 f), N Cunningham 2-0, D Cox 1-2, N Grainger 0-2.
CORK: C O'Leary (Douglas); D Peet (Clonakilty), N Lordan (Ballinora), J O'Shea (Urhan); D Cashman (Millstreet), D Linehan (Castlemagner), A Walsh-Murphy (Valley Rovers); J Lawton (Argideen Rangers), E Nash (Douglas); H Murphy (Éire Óg), P Campbell (Nemo Rangers), J Scannell (Carbery Rangers); M O'Neill (Buttevant), C Corbett (Clyda Rovers), captain, J Cahalane (Castlehaven).
Subs: S Andrews (Shamrocks) for Peet 34, N Gough (Bishopstown) for O'Shea 45, L Murphy (Cullen) for Nash 50, R O'Donovan (Barryroe) for Cahalane 59, T O'Donoghue (Carrignavar) for Walsh-Murphy 69, Cahalane for Campbell 75, Nash for Lawton 77.
GALWAY: D Halleran; J McGrath, captain, R King, L Tevnan; C Herron, E Fiorentinim K O'Neill; J McLaughlin, D O'Flaherty; E Nolan, W Seoige, D Brady; N Grainger, T Culhane, D Cox.
Subs: C Gallagher for O'Flaherty 51, N Cunningham for Grainger 56, D Kennedy for Tevnan 59, M Colleran for Brady 65.
Referee: N Mooney (Cavan).
https://rebelog.ie/wp-content/uploads/2020/06/Minorswin.jpg
698
1056
Rory Noonan
https://shared3.sportsmanager.ie/~rebelognew/wp-content/uploads/2020/06/logo.png
Rory Noonan
2019-09-02 08:11:50
2020-07-04 13:49:55
Congrats to the All-Ireland champions!